cover story in Coda 321 (May/June 2005): 12-16, 37. Comments by David Lee and Michael Cuscuna, with author's reply, in Coda 323 (Sept./Oct. 2005): 5.
Who Killed Tina Brooks?
Jack Chambers
Listening to The Waiting Game by Tina Brooks, freshly mastered in 2002 with 24-bit technology in Blue Note's limited edition Connoisseur series (Blue Note 40536), there can be no doubt that Brooks was a hard-bop master. Here is abundant evidence of the tenor saxophonist's easy but insistent swing, his blues-based sound and feeling perfectly suited to the hard-bop genre that was the special domain of Blue Note Records at their best. Brooks also seems to be a natural leader, as the composer of all five original themes (the sixth is the Broadway ballad "Stranger in Paradise"), and the dominating voice in the quintet of hard-bitten but stylish veterans Johnny Coles, Kenny Drew, Wilbur Ware and Philly Joe Jones.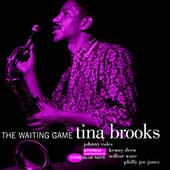 He was 28 when he made the record, and you might have thought, if you didn't know better, that he was well on his way to an influential career in the jazz forefront. Then comes the sobering thought— when Tina Brooks recorded The Waiting Game in 1961, his career was effectively finished. The record date fell five days before his 29th birthday, but he never recorded again. He would live 13 more years, but neither The Waiting Game nor any of the other music of his mature years was released in his lifetime. He died at 42, a bitter, penniless, incapacitated wreck, but he was he was given up for dead years before that.
The "waiting game," in a literal sense, was certainly implicated in his demise, or if that seems melodramatic, at the very least it left him frustrated and helpless. Besides The Waiting Game, two earlier albums he made for Blue Note as a leader, Minor Move in 1958 (now Connoisseur Blue Note 22671 [2000]) and Back to the Tracks in 1960 (Connoisseur Blue Note 21737 [1998]), also went unreleased in his lifetime. The one album of his that was released, True Blue (Blue Note 4041, now Toshiba-EMI Japan [2004]), was overshadowed at the time by the simultaneous release of Freddie Hubbard's Open Sesame (Blue Note 4040, now CD 84040 [2002]), recorded in the same studio the week before with overlapping personnel (Hubbard, Brooks and bassist Sam Jones on both, with different piano and drums) and similar repertoire (Brooks wrote two themes for Hubbard and arranged the ballad, and five originals on his own album).
Those records marked Hubbard's debut as leader and sideman. A broad-shouldered Midwesterner, 22 years old with the bearing of an athlete, Hubbard in his youth was a magnetic figure. He made a sharp contrast to the diminutive, stoop-shouldered Brooks, who was six years older and had paid his dues on the small-time fringes of the jazz world. Hubbard needed Brooks, or someone like him, to get him started, and he knew it. Years later, when producer Michael Cuscuna was preparing Brooks's music for its belated release, he went to Hubbard to see what he could find out about the forgotten saxophone player, and Hubbard was generous in acknowledging his debt. "I loved Tina," he said. "He had a nice feeling.... He would write shit out on the spot and it would be beautiful. He wrote 'Gypsy Blue' for me on the first record, and I loved it. I just loved it. Tina made my first record date wonderful. He wrote and played beautifully. What a soulful, inspiring cat."
But Hubbard never used Brooks again as his fortunes rose. A few other musicians did on occasion, both before and after Hubbard, in the three years from February 1958 to March 1961 that turned out to be Brooks's momentary heyday. As a sideman, Brooks was almost always paired with other saxophonists in the band, and he proved to be a superb team player, so that his individual gifts were held in check. With his more individualistic works as leader cruelly suppressed, he gained little momentum in what should have been a career equal to the men who played on his records like Lee Morgan, Johnny Coles, Blue Mitchell and Lou Donaldson, and for that matter the ones whose dates he played on, Hubbard, Jackie McLean, Jimmy Smith, Freddie Redd and Kenny Burrell.
It did not work out that way. If it were not for Michael Cuscuna, Tina Brooks would be completely forgotten today. Cuscuna got access to the Blue Note vaults in 1975, ten years after the conglomerate Liberty Records bought out the original owners, German expatriates Alfred Lion and Francis Wolff. The Blue Note stockpile had been gathering dust even before the sell-out, and when Cuscuna started opening tape reels he discovered several unissued sessions. Many of them involved Brooks as either leader or sideman, and although Cuscuna has been careful to avoid any hint of censure he would surely have to agree that the neglect of Brooks by the Blue Note hierarchy was devastating, and hardly arbitrary. Both Back to the Tracks and The Waiting Game, Cuscuna discovered, had been mastered, sequenced, numbered, designed and listed in the Blue Note catalogue, but never issued. He got them their first-ever release on Japanese Blue Note in 1979. The next year, Cuscuna got Japanese releases for two unissued recordings with Brooks in crucial supporting roles, Jimmy Smith's Cool Blues (now Blue Note 35587 [2002]) and three additional titles, two composed by Brooks, on Jackie McLean's Jackie's Bag (Blue Note 42303 [2003]), as well as Brooks's own Minor Move, his 1958 date as leader.
So it happened that in 1980, six years after his death, 20 years or more after the recording dates, Tina Brooks's best music finally got a public airing. Not that that it was exactly accessible. Issued in Japan before the days of the internet, the LPs were a regional phenomenon, largely unpublicized abroad, hard to get hold of, and damnably expensive. Cuscuna then sought to improve accessibility by reviving Blue Note as an active label, but the American owners had other priorities that required them to postpone the venture for a few years, and so Cuscuna and his partner Charlie Lourie founded Mosaic Records and began licensing recordings for limited-edition, mail-order, boxed sets. Mosaic turned out to be a phenomenon. Instead of an arcane service for a handful of jazz collectors, Mosaic caught an unexpected commercial wave in response to their care in presenting complete sessions with literate annotations and impeccable sound. It became one of the few upbeat developments in jazz before the CD boom, and eventually it inspired reissue programs throughout the record industry, some of them rivaling Mosaic's quality. Their sixth release, in 1983, was The Complete Blue Note Recordings of the Tina Brooks Quintets(M106). The limited edition of 5,000 sold out quickly.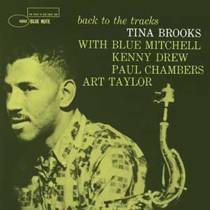 Commercial releases of Brooks's individual albums on the resuscitated Blue Note label starting in 1998 should finally nudge Brooks into the spotlight that was denied him in his lifetime, even on the Connoisseur series that usually requires a special order. "Far lesser talents have been far more celebrated," Cuscuna writes in the notes for Back to the Tracks, putting the befuddling fact of his anonymity in simple terms. "He was a unique, sensitive improviser who could weave beautiful and complex tapestries through his horn. His lyricism, unity of ideas and inner logic were astounding."
Cuscuna's appraisal has been seconded by everyone who has made the effort to find the records. David Rosenthal, the first historian of Hard Bop, devotes five pages to Brooks, singling out, among other highlights, his "Street Singer" on Back to the Tracks as "an authentic hard-bop classic" in which "pathos, irony and rage come together in a performance at once anguished and sinister." Among the aspects of Brooks's style that Rosenthal praises are "a plaintive sinewy tone; a floating, legato rhythmic sense not unlike Lester Young's; and an ability, similar to [Jackie] McLean's at the time, to compensate through timbre and 'presence' for sometimes commonplace melodic ideas." The consensus is forming, albeit more than 40 years too late to save Tina Brooks. It is worth wondering how it came about that more than half of his music languished unheard, including, tragically, about four-fifths of his work as a leader. Most damning, the suppressed sessions clearly and incontrovertibly comprise Brooks's most brilliant work. Back to the Tracks, The Waiting Game and the unheard half of the session he co-led with McLean (though he was never credited publicly as co-leader) are outstanding by any standard, compared even to contemporaneous releases by Art Blakey and the Jazz Messengers, Horace Silver, Joe Henderson, Wayne Shorter, Lee Morgan and any number of players who carried the Blue Note banner.
Cuscuna, in his various notes accompanying Brooks's works, occasionally wonders aloud what went wrong, but his answers seem less than convincing. "The subtlety of his tone and intricacy of his ideas didn't make him an easy sell," he says in Jimmy Smith's Cool Blues. But that hardly rings true in the era when Miles Davis and Bill Evans were dominating jazz with their subtlety and intricacy. "Perhaps the sales of True Blue were so low that the independent label feared losing money by releasing [Brooks's subsequent albums]; [Alfred] Lion did not remember the circumstances when I asked him," Cuscuna says in The Waiting Game, and again it is hard to read business sense into holding back superior work because of sales figures that were two or three years in the past, especially after going to all the trouble of designing and cataloguing the new albums.
"Tina was also one of the many who had a chronic drug habit," Cuscuna says, but that was often an incentive, not a deterrent, to the owners of jazz labels. "The record companies are aware of what the cat's problems are," Jackie McLean told A. B. Spellman in 1966. "If they weren't aware ...that record dates are a necessity to many musicians and that some musicians use drugs, there would be more jazz musicians around with money."
More to the point, it seems, is Cuscuna's observation that Brooks "never attained fame of any sort" because of "his shy, reserved personality." In the circles in which he moved, Brooks's inversion was seen as a despicable trait, a fatal weakness. Except when he had his saxophone to his lips, Brooks was what the Harlem street gangs of his youth called a "lame," an outsider, a loser.
Brooks was born in Fayetteville, North Carolina, in 1932. He was christened Harold, and his twin was christened Harry. Harold and Harry were the youngest of eight kids, and with their sound-alike monikers it was inevitable that one of them would get nicknamed. So Harold, who was small, became "Tina," meaning "teeny" originally, but as he stayed small and became increasingly soft-spoken and withdrawn, it resolved itself into Tina, like Tina Louise, the brainless beauty in ofay United Artists movies, and Tina Sinatra, the crooner's baby daughter, and all those other girlie-girls named Tina. Nobody knew him as Harold. He was Tina.
In a telling instance, the whole family packed up and moved to New York in 1944, when Tina was 12, but Tina could not fit in. "Shy, short and hardly streetwise," Cuscuna says, "Tina was harassed by gangs and once mugged and robbed of his saxophone." He was sent back to Fayetteville to be raised by relatives.
He rejoined his family in New York in 1949, and started working in rhythm and blues clubs and showing up at Harlem jam sessions. It took eight years of plugging before the old bop trumpeter Little Benny Harris recognized his potential and recommended him to Alfred Lion at Blue Note. At first, his timing looked good. Lion stuck him into the jam ensemble surrounding B3 organist Jimmy Smith, who had lately emerged as a label stalwart, and Brooks got to play on one long track called "The Sermon," which was also the name of Smith's hot-selling album (Blue Note 24541 [2000]). About a year later, Lion added him to another jam ensemble, this time led by guitarist Kenny Burrell, and he got to play on half the tracks of a two-volume album called Blue Lights (Blue Note 57184 2-CD [1997]). With their voguish Andy Warhol covers, blues-based themes, and single-minded communal spirit, the Blue Light albums epitomized the special equilibrium of Blue Note in these peak years, which at its best kept one foot in the conservatory and the other in the roadhouse. The next year, Brooks got further exposure in a Burrell quintet On View at the Five Spot Café (Blue Note 46538 [1987]), but this record got little notice.
So Brooks's name circulated on a few notable albums released at the time, though spread over a year and a half and in the company of a collective gang of nine on Smith's record and eight on Burrell's. What he needed now was a chance to emerge from the pack, and Lion seemed to recognize this by giving him a date as a leader with a powerhouse band that included the ascendant Lee Morgan on trumpet and veterans Sonny Clark on piano, Doug Watkins bass and Art Blakey drums. The album, when it came to light decades later, was made up of three standards and two Brooks originals, and in this good company Brooks himself stands out with impressive range from bouncy "Nutville" to delicate "Everything Happens to Me." Minor Move, as the album was called when Cuscuna assembled it for its release in Japan in 1980, would likely have been the making of Tina Brooks had it been released at the time. Lawrence Kart, writing the liner note, finds good reasons to prefer it to True Blue, Brooks's second record as a leader and the one that did get released. At the very least, it would have attracted attention for the extraordinary promise of the two young horn players.
Minor Move thus became the first pawn in the waiting game. Two-and-a-half years later, Brooks was given a second chance, and the album from this session, True Blue, got a public airing. It proved to be a minor spike in his fortunes, too far removed apparently from his supporting roles with Jimmy Smith and Kenny Burrell to add critical mass. Releasing True Blue might simply have been Lion and Wolff's reward to Brooks for virtually handing Freddie Hubbard his own debut record. Hubbard appeared on both records, of course, and from that point Blue Note would promote Hubbard to great advantage, but not Tina Brooks.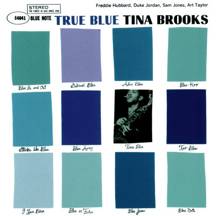 Jackie McLean, reformed junkie and newfound hard-bop honcho at Blue Note, appears to have taken up Brooks's cause with his bosses. McLean was recording prolifically for Blue Note, and successfully enough to dictate his terms. He brought Brooks along as his co-leader in what turned out to be a stunning hard-bop session when it was finally assembled in its entirety years later. But in the immediate aftermath, Brooks got none of the advantages. The half of the session that was released at the time came out under McLean's name coupled with another McLean session. Brooks was there, on side one, but his best work, notably the pieces he composed for the session, was left in the vault.
By this time, Brooks was scuffling. Did McLean or Brooks use the occasion to plead with Alfred Lion and Francis Wolff to give him a break? Probably, but if it was Brooks it would have been apologetically, cap in hand. More likely it was McLean who made the case, because Brooks did get back on the roster. In the next six months, Lion and Wolff gave him two more dates as leader. And, of course, released neither of them.
Lion and Wolff had to know that they were ruining Brooks's chances, in effect, killing him. They seemed to feel that he was unworthy of bearing the Blue Note banner, even when he recorded with their top guns like Jimmy Smith and Jackie McLean. Did they wonder why musicians they liked, like Hubbard and McLean, bothered with him? What do they see in him? Total junkie, total fruitcake. Lion and Wolff saw him come into the Blue Note office shaking, looking shabby, smelling of stale tobacco or worse from the joints in the Bronx where he is playing rhythm and blues or mambo music. They gave him studio time for his record sessions —playing his own music, with terrific bands— and then they gave him a little money up-front and watched him scrambling to get out on the street and make his connection. If Brooks called to ask them, or if McLean did the asking for him, they could tell him that they are editing and sequencing his music for release. And it never comes out.
Years after his first date as leader, he is playing "the waiting game," and that is the title he told them to put on his last record. To Brooks it must have been agony, this waiting game, but to Lion and Wolff it might have been a joke. If they caught the joke, it didn't change their minds. Brooks's music would be released over their dead bodies. Literally. By the time it came out, Wolff was dead and Lion was retired, and ailing, in California.
"If you can imagine being under the Nazi regime and not knowing it, then you've got an idea what it's like being with that company," McLean said, referring to his days as a strung-out musician with Prestige Records. "I was starving when I signed that contract.... And my condition didn't help either; any money was money then. ...They give you a little bit of front money, and then they tell you about the royalties you are going to get after the record is released." And the money never comes. But McLean's records were released, and having his name on a record meant something, if only as a reminder to club owners that he was alive and to listeners that he had something to say. But if the records are never released, like Brooks's on Blue Note, there is nothing.
Tina Brooks was not alone in feeling the disdain of the Blue Note managers. Grant Green was one of Blue Note's star attractions starting in 1961, but as his heroin dependency became increasingly acute, more and more of his record sessions went unreleased. The reasons had nothing to do with the quality of the music, at least not always, as witness the excellent Blues for Lou (Blue Note Connoisseur 21438 [1999]) and Matador (Blue Note 84442 [1990]), also issued for the first time by Cuscuna decades after their recording. For Green as for Brooks, the suppression of income and reputation brought on spiraling misfortunes and reduced him ultimately to beggary.
Tina Brooks scuffled for gigs for a few years after his last stillborn record session, ending up in corner bars playing for tips. By the late 1960s, he could no longer hold his horn. He died in 1974 of kidney failure but the real cause, as a trumpet player named Oliver Beener told Cuscuna, was "general dissipation." Decades later, with the wealth of evidence of his music finally before us, we know he deserved better.
"The grace of his artistry," Lawrence Kart says, "remains as a benediction— upon him and upon us as well." Maybe so, but it also an indictment.
Life is hard, Alfred Lion and Francis Wolff might have said, and they should know, having arrived in America as refugees from Nazi Germany. And they might have added, Blue Note Records, you know, is not a charity. Beyond a doubt, they showed none.
References
(with page numbers of direct quotations at the end of the entry)
Michael Cuscuna (1998) Liner note for Tina Brooks, Back to the Tracks. Blue Note CD 21737.
Michael Cuscuna (2002). Liner note for Tina Brooks, The Waiting Game. Blue Note CD 40536.
Michael Cuscuna (2002). Liner note for Jimmy Smith, Cool Blues. Blue Note CD 35587.
Lawrence Kart (1980). Liner note for Tina Brooks, Minor Move. Blue Note CD 22671 (2000).
David H.Rosenthal (1992) Hard Bop: Jazz and Black Music 1955-1965. New York: Oxford University Press. 127, 126.
A.B. Spellman (1966) Four Lives in the Bebop Business. Reprinted as Black Music: Four Lives. New York: Schocken Books. 1970. 213.
---